Plastics
Reducing scrap rate and lowering cycle times are important in today's competitive environment.
Chardon specializes in servicing the plastics industry and understands the critical role thermolators, oil coolers and chillers play in your manufacturing operation. Together we will develop a customized water treatment program to meet your specific needs.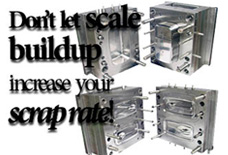 Chardon's ISO 9001 certified technicians will partner with your maintenance staff to ensure your treatment program runs smoothly, conserves chemicals and ultimately results in clean, efficient systems. Chardon is the only company to provide the three best guarantees in the water treatment industry: Guaranteed Scale-Free Systems, Guaranteed ISO Service at a Guaranteed Price.
Let Us Help Reduce Scrap Rate and Lower Cycle Times